Vascular health and the management of vein-related issues has witnessed remarkable progress, ushering in a new era of minimally invasive vein treatment options for patients seeking relief from the discomfort and aesthetic challenges posed by varicose veins and spider veins. The outdated and often painful procedures of the past, such as vein stripping, have given way to gentler, more effective treatments that spare patients lengthy recovery times and discomfort. It's safe to say that the landscape of vein care has evolved significantly from what our parents might have experienced in the past. Let's take a closer look at the exciting and improved choices available for dealing with varicose veins and spider veins in a modern vein clinic.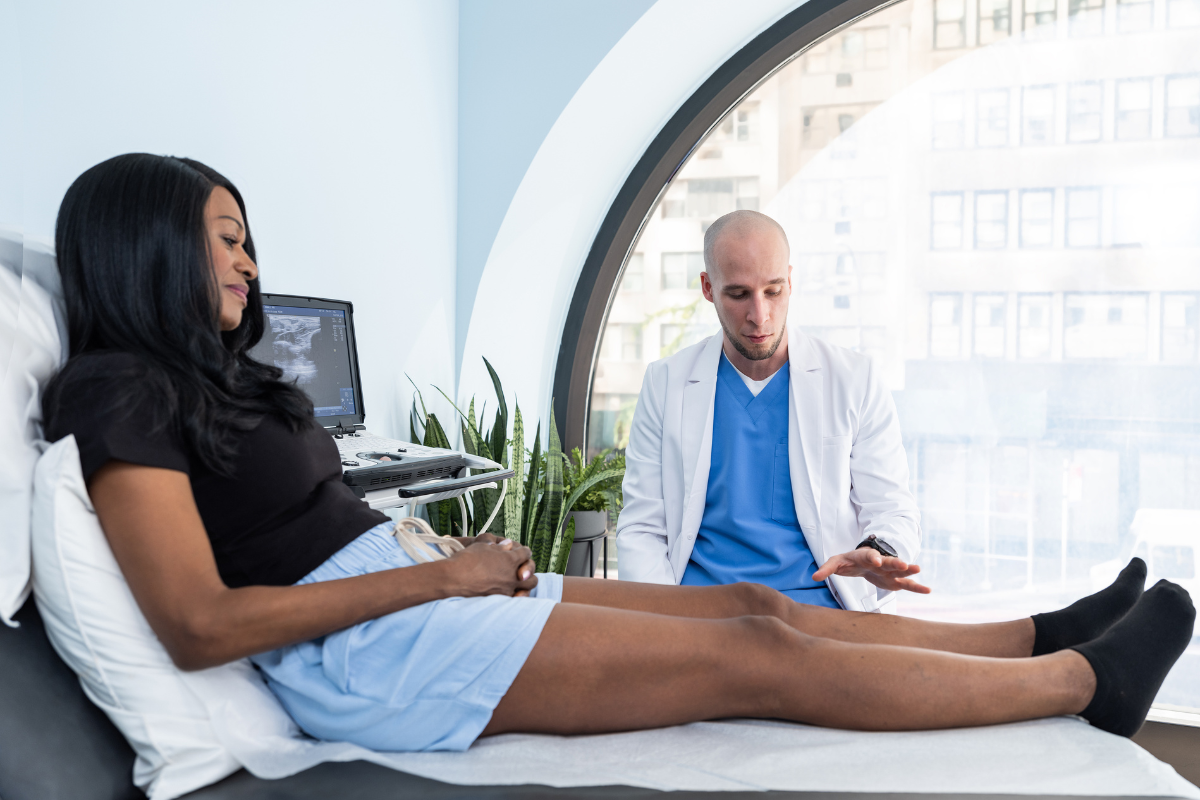 Modern Advancements
In previous years, invasive procedures like vein stripping and phlebectomy were common methods for addressing the painful symptoms of varicose veins. These surgeries were conducted in hospital settings, and they frequently entailed significant discomfort and protracted recovery periods as patients awaited the healing of their legs. Even more disheartening was the fact that there was only a 50% chance of success with vein stripping, as there was a substantial likelihood that varicose veins would return after the procedure. Fortunately, recent breakthroughs in vein health have rendered vein stripping obsolete, in favor of far gentler and more effective vein treatment alternatives. Minimally invasive vein therapies have revolutionized the landscape, offering state-of-the-art, pain-free solutions with minimal downtime. In less than 30 minutes, you can walk into a vein clinic, undergo treatment, and head home (or even back to work) the same day.
Varicose veins are characterized by their bulging, twisted appearance on the skin's surface, along with symptoms such as cramping, itching, leg swelling/edema, and restless legs, which can worsen as they progress to more advanced stages of chronic venous insufficiency. The good news is that insurance companies cover varicose vein treatment due to their underlying medical condition and impact on quality of life.
With the recent advancements in minimally invasive techniques, the entire vein treatment process can be completed in as little as 30 minutes from your arrival at the vein clinic to your departure. These innovative procedures are approved by the FDA and are performed by board-certified vascular surgeons, physicians, and vein specialists at nationally accredited vein clinics like Metro Vein Centers.
The New & Improved Vein Treatments Available
Radiofrequency Ablation: The first step in most vein treatment plans is radiofrequency ablation (RFA), which treats the medical condition that causes varicose veins, known as chronic venous insufficiency. RFA involves using pulsating radiofrequency energy to gently close the veins that are causing patients discomfort, improving blood circulation in the legs. During the treatment, a skilled vein specialist inserts a small tube into the problematic veins, and the veins gently close as the radiofrequency energy generates heat. This treatment is performed with the aid of localized anesthesia, ensuring a pain-free, comfortable experience.
Sclerotherapy: Another modern vein treatment option, sclerotherapy (often hailed as the "gold standard" in vein treatment), is highly effective in treating spider veins. It involves injecting a concentrated, foam-like solution into the veins, causing them to gently close and be reabsorbed by the body. After treatment, circulation improves and the visible appearance of the target veins disappears.
Venaseal: One of the latest advancements in state-of-the-art varicose vein treatment is VenaSeal. VenaSeal is a specially formulated medical bioadhesive injected into a diseased varicose vein using a small catheter. The guidance of ultrasound technology ensures precise targeting of the damaged veins. Remarkably, just a single injection is needed to achieve successful results with VenaSeal. This treatment boasts a 99% success rate after six months, making it one of the top choices for achieving lasting relief from the painful and uncomfortable symptoms of varicose veins.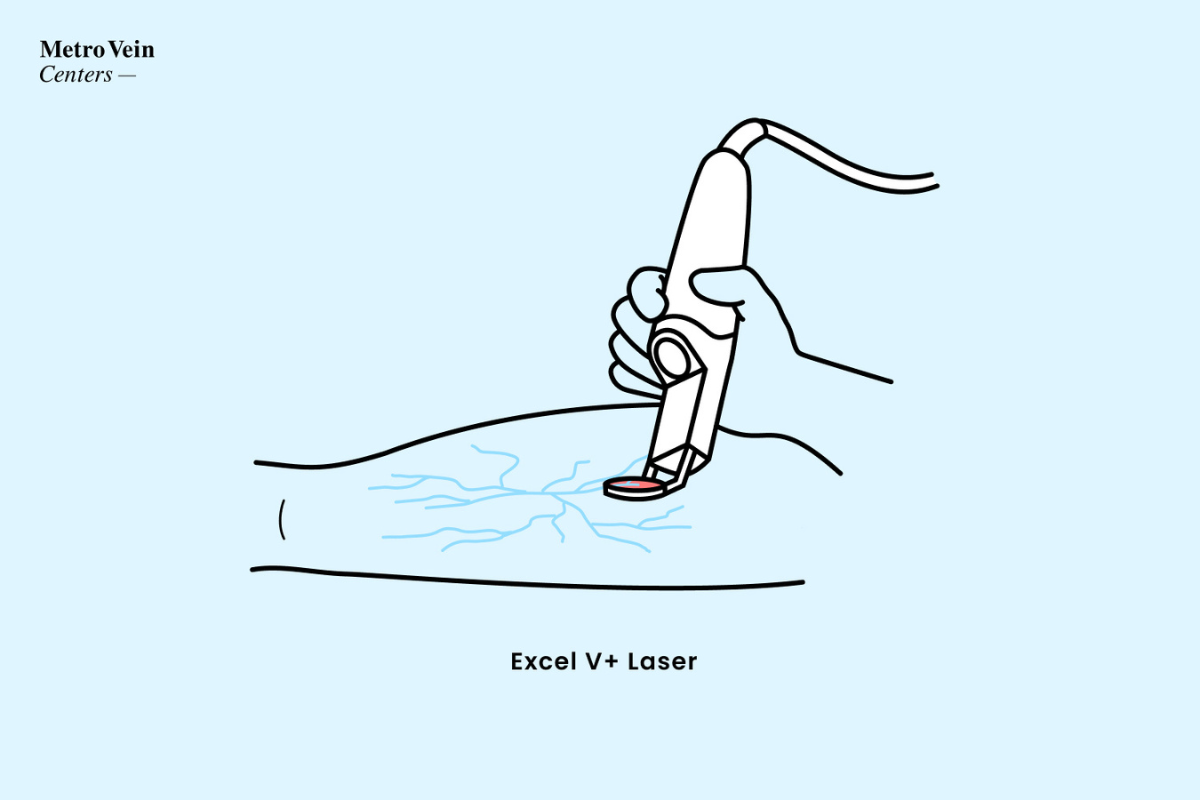 Laser Vein Treatment: Cutera's excel V+ laser is a revolutionary treatment that removes visible spider veins on the surface of the skin, all without the need for small incisions or injections. Designed to minimize the appearance of small and medium spider veins on the legs, this treatment employs highly targeted laser energy to eliminate unsightly veins on the surface of your skin.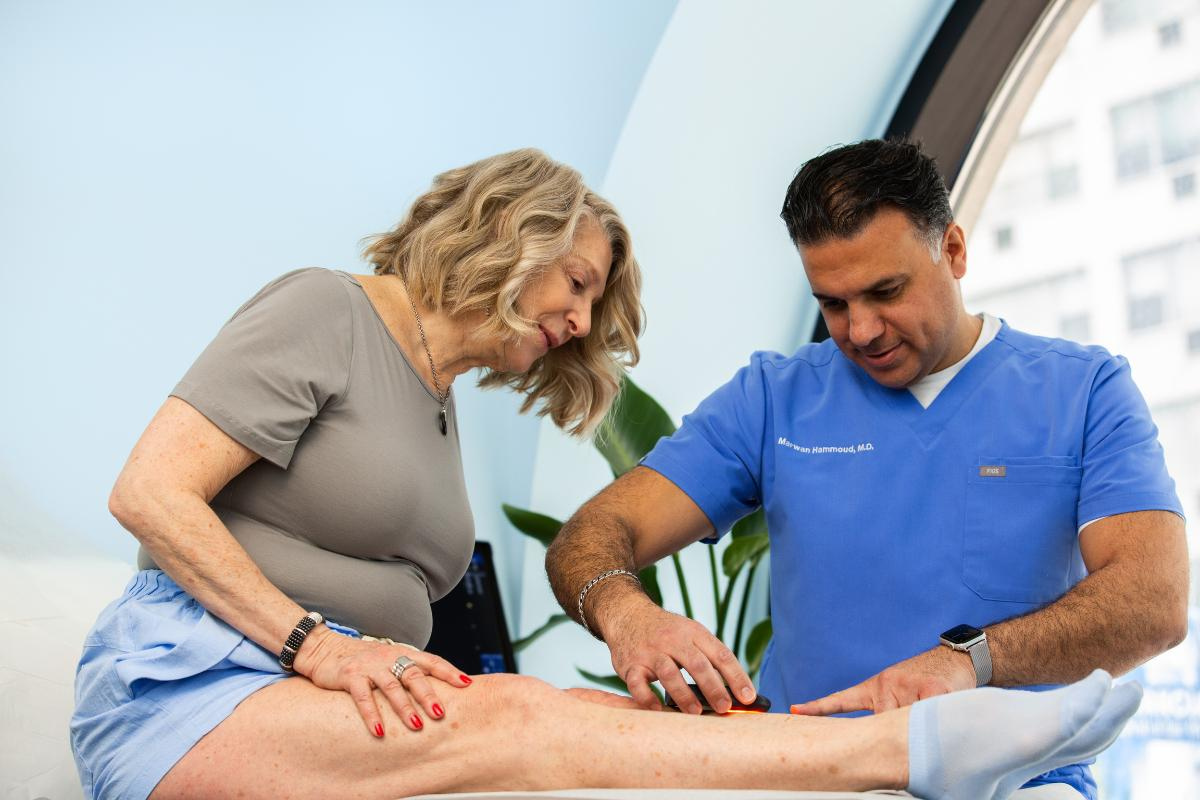 Where To Find the Best Vein Treatments
Relief and visible results are just a call away. At Metro Vein Centers' nationally-accredited vein clinics, we offer the latest state-of-the-art vein treatment technology to treat varicose and spider veins. Our team of board-certified vein specialists takes a personalized approach, crafting care plans tailored to your unique symptoms and lifestyle, ensuring that you receive the best possible results for your vein-related concerns. Additionally, we work closely with you and your insurance provider, accepting 200+ plans to ensure you receive the maximum possible coverage for your vein treatments. We offer free vein evaluations in all 40+ New York, New Jersey, Connecticut, Michigan, and Texas vein clinics. To schedule your free consultation with a board-certified vein doctor, don't hesitate to reach out to our patient care team at 866-353-5230. We're here to help, and we look forward to supporting you towards meaningful relief and healthy legs!
Trusted insight from the nationally accredited, board-certified vein doctors at Metro Vein Centers.