Spider veins are a largely cosmetic concern that can interfere with your confidence and comfort when you wear shorts, skirts, and dresses. They often appear behind the knee, around the ankle, at the back of the heel, and on the foot. Why are these areas such hot spots for spider veins? What can be done about spider veins on your ankles and feet? Keep reading to find the solution!
What Are Spider Veins?
Before we can understand why they appear, we must first understand what spider veins are. Spider veins are thin, web-like veins that can range in hue, often showing as red, blue, green or purple veins. They branch out along the surface of the skin in flat patches of color as the skin thins with age. By themselves, spider veins are not a medical concern, but when paired with symptoms such as itching, cramping, aching, leg swelling, or others, visible spider veins may be indicative of greater vein disease beneath the surface of the skin.
It's important to note that spider veins do not appear raised nor have texture, and they are not accompanied by pain or discomfort. If you have painful, raised, or bumpy veins in your legs, these are known as varicose veins, and they are a common visible symptom of chronic venous insufficiency. Varicose vein treatment is often covered by insurance, as it is a medical issue — but spider veins usually are considered cosmetic concerns by most insurance providers because they do not pose risks to your overall bodily health. That said, spider veins (whether they're on the leg, foot, or ankle) are easily remedied in a vein clinic — plus, there's virtually no downtime following spider vein removal!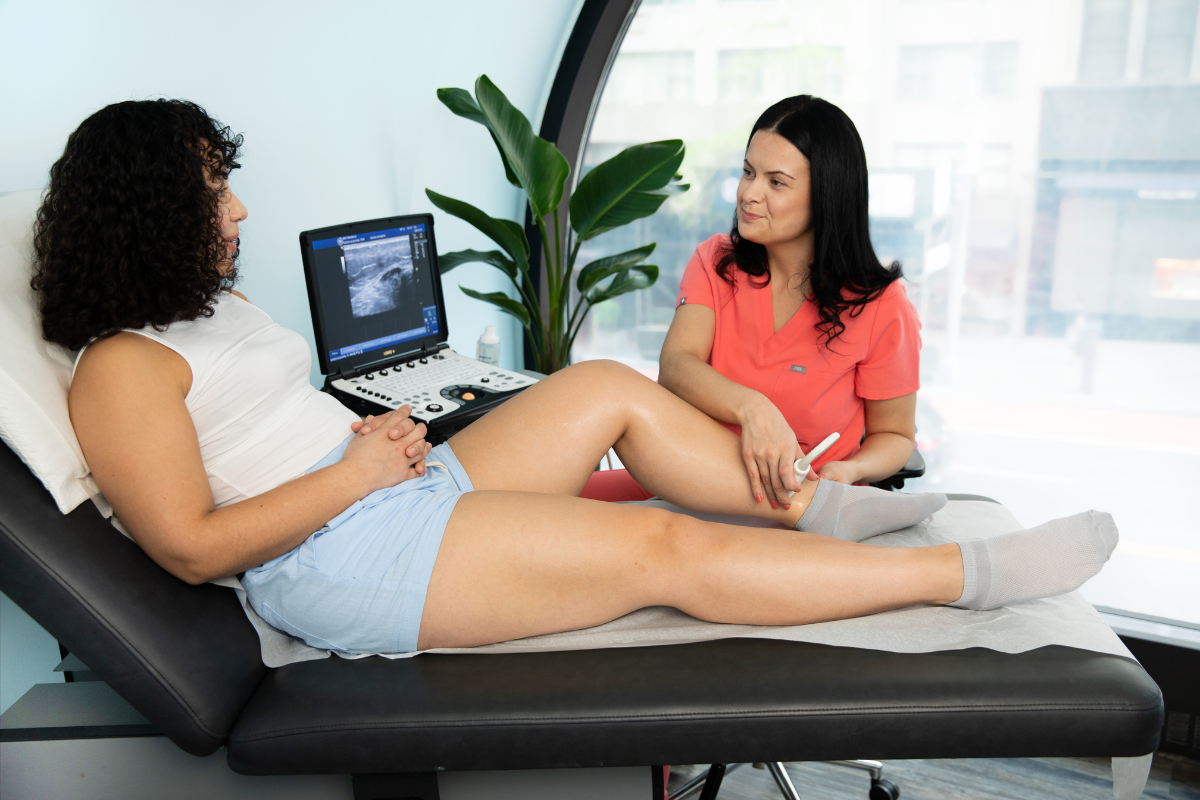 Why Do Spider Veins Appear on the Foot and Ankle?
Spider veins often appear on the feet and ankles because in these places your veins are very close to your skin due to less muscle and fat in the area. Places such as the backs of our hands and knees, or where skin is pressed against bone such as in the foot and ankle area, spider veins are more prone to appear. Additionally, it is common to see veins on the heel where there is increased pressure. Spider veins can become visible as young as age 30 or 40, with lifestyle factors such as smoking, the use of hormonal birth control, and childbirth potentially hastening their appearance. Because of this, many patients we see in our vein clinics have spider veins in these areas.
Gravity, too, has an impact on the appearance of ankle veins and foot veins. The reason we see so many visible veins on the legs, whether they're varicose veins or spider veins, is because your body has to fight the weight of gravity to pump blood back up from your feet to your heart. This strain can eventually cause malfunctions within your veins, leading to the appearance of visible veins on the legs, feet, and ankles where there is the most pressure from your body's weight
It's important to remember that spider veins are not dangerous when unaccompanied by any uncomfortable symptoms, but that doesn't mean their impact is the same for everyone. Some people are more uncomfortable with visible veins than others, some simply prefer not to have them, and some people face insecurity that inhibits their day-to-day life. Regardless of your reason for wanting them gone, spider vein removal is a fast and pain-free process with the help of a board-certified vein specialist.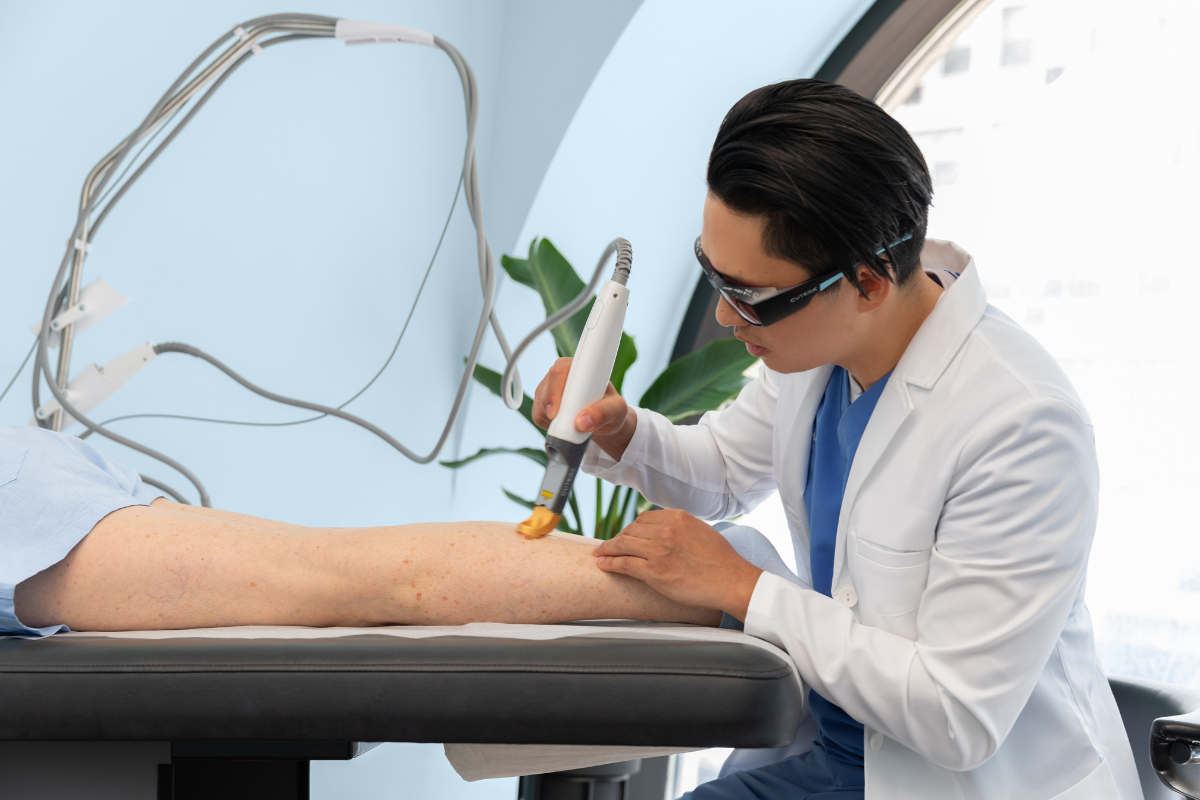 How Do Vein Doctors Treat the Foot, Ankle, and Heel Veins?
Spider veins can be treated in a variety of minimally invasive and non-invasive ways through the use of non-invasive vein removal technology such as injections (known as sclerotherapy) or lasers, such as the excel V+ laser. During a consultation your vein doctor will evaluate you for vein disease and discuss your treatment options with you. The choice of injection treatment or laser treatment for ankle veins is entirely dependent on the size, type, and color of your veins. Your vein doctor can treat the surface of your skin to remove spider veins on the foot or ankle, or they can gently inject these areas. Both treatments are considered non-invasive and require no numbing. Treatment takes less than 30 minutes and the only downtime is to avoid sun exposure for 2-3 weeks on the treated area.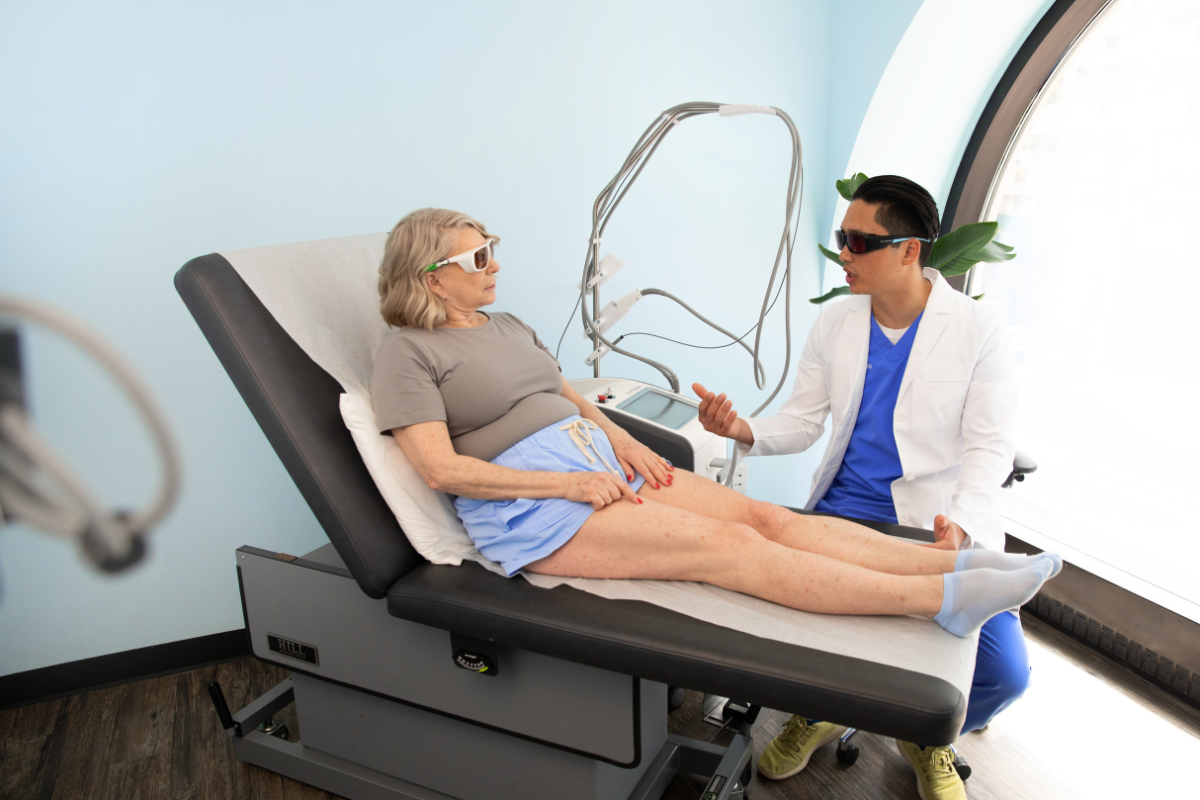 Which Spider Vein Treatment Is Right for Me?
At Metro Vein Centers, our team of vein doctors treat spider veins in two ways: excel V+ laser and sclerotherapy. The treatment your vein specialist recommends will depend on a variety of factors. Your vein doctor will consider your lifestyle, complexion depth, the surface area your spider veins cover, and the darkness or color of the spider veins.
Let's learn more about our options for spider vein removal:
excel V+ Laser: This 100% non-invasive treatment option works on spider veins, skin discoloration, and other vascular conditions on the surface of the skin such as skin texture. Excel V+ lasers deliver penetrating pulses of light energy directly into spider veins. Using our guided lasers — which give you a unique hot/cool sensation — we're able to laser the vein and allow it to be reabsorbed by your body.
Sclerotherapy: Sclerotherapy for foot veins and ankle veins is an FDA-approved treatment that has become an increasingly popular option for veins of all sizes, specifically due to its versatility, efficacy, and rapid recovery time. Using a concentrated, injectable foam, the solution adheres to the vein walls, causing unsightly veins to quickly close and be reabsorbed into the body. After treatment, circulation improves and the visible appearance of the veins disappears.
Who is a good candidate for laser vein removal?
Excel V+ laser is recommended for those who value quick recovery time and do not experience any symptoms of vein disease (such as small varicose veins, swelling, etc., which are treated by radiofrequency ablation, and other medical treatments). Because the laser targets pigment, this treatment is recommended only for those with fair-to-medium skin tones, as the laser may target melanin in the same way it targets the red/blue/green/purple tones in visible spider veins.
Who is a good candidate for sclerotherapy?
Sclerotherapy is recommended for those with visible spider veins (or smaller varicose veins), and for patients who want to treat multiple veins in one sitting. Most patients are able to see visible results after their first treatment, with 2-4 appointments on average required for permanent results. This treatment does not use a laser to target pigment, so it is recommended for all skin tones. One of the many reasons sclerotherapy is so popular in the vein care community is that it can be used for just about anyone!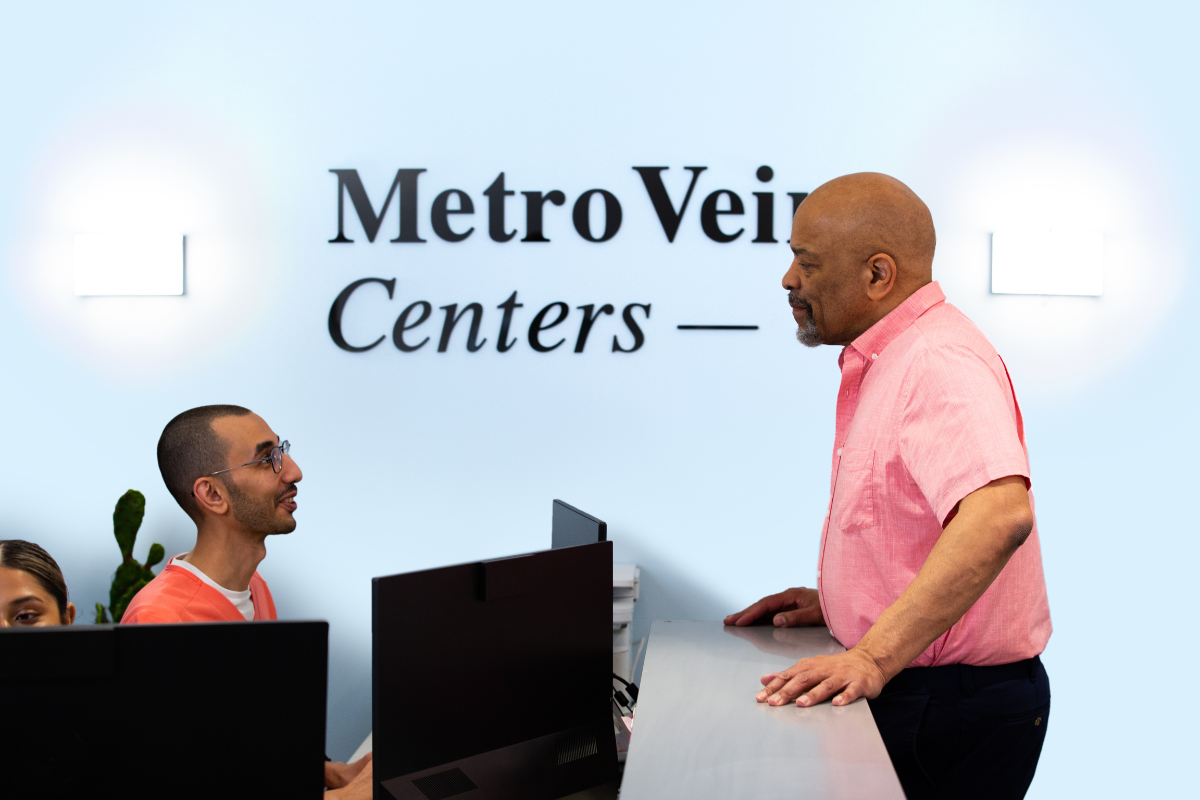 How Can I Make an Appointment for Ankle and Foot Vein Treatment?
Our vein specialists customize treatment plans that are unique to each patient, so the best way to find out what your treatment options are is to come in for a free evaluation! Your vein doctor will match you to the vein treatment that will work best for you and your concerns. Visible veins on the foot and ankle are highly treatable and can be eliminated in as few as two appointments. To schedule a free vein evaluation in one of our New York, New Jersey, Texas Connecticut, or Michigan vein clinics, give our patient care team a call at 866-353-5382. Take the first step in vein care, we'll handle the rest.
Trusted insight from the nationally accredited, board-certified vein doctors at Metro Vein Centers.