Ultrasounds and Vein Health
You've probably seen ultrasound devices being used in videos and images on various medical websites. Ultrasound is a terrific medical advance that has enabled more accurate diagnoses ever since it was first introduced. Today, we'll talk about ultrasound, how we use it in vein treatment diagnosis, and what you can expect when you come to visit us and we perform with you an ultrasound exam.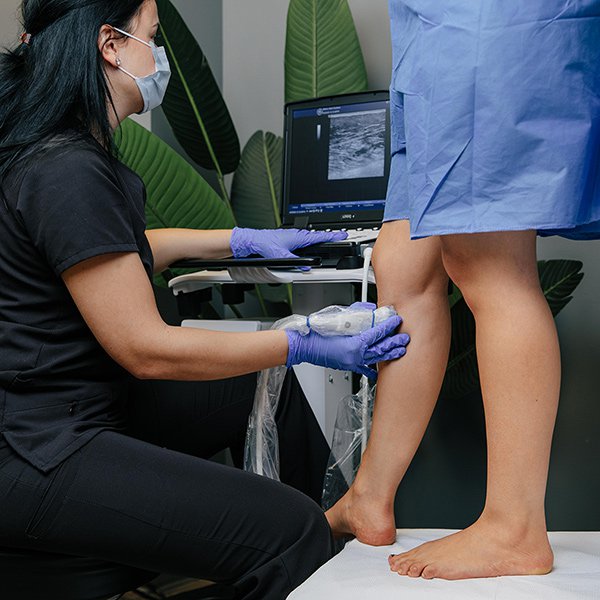 Medical Ultrasound – How it is used in vein health diagnosis
Modern ultrasound technologies are now extensively used in the diagnosis of vein disease. Doppler ultrasonography is used to measure blood through veins. Doppler ultrasound can be used to build a visual model of the blood flow and the vein, detecting vascular insufficiency. From this information, clinicians can diagnose vein health problems.
There are a few things to keep in mind when you visit one of our offices for an ultrasound examination:
Ultrasound is non-invasive and doesn't hurt. Since it just involves high-frequency sound and nothing else, it has no deleterious effects on tissues. Ultrasound exams leave no marks and just involve moving a device over your skin.
Normally, a technician will rub or glide a device over your ankles or thighs. This is not treatment. Instead, the device is reading the structure of your veins by way of analyzing blood flow. The ultrasound examinations that we conduct take about 20 to 30 minutes. Since results will be available right away, your doctor will be able to discuss results with you right away. One of our evaluation visits takes about an hour.
Talking With Your Doctor
After your ultrasound examination, your doctor will ask you other questions and determine the outline of a treatment plan. A complete treatment plan may take 2 to 3 days to complete, but the ultrasound is the heart of the exam. You and your doctor can go over the results in their office, and from there determine your best course in vein treatment.
Do you have other ultrasound questions? Call us at +1 888-660-3494. We'll be happy to answer your medical ultrasound questions or any other questions about vein health.